Timothy Topolewski is Professor Emeritus of Music at the Crane School of Music where he taught from 1987 through 2006.

During his tenure at Potsdam College, he developed The Crane Wind Ensemble into one of the premiere ensembles in the state.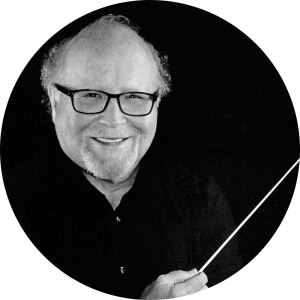 A native of Michigan, Dr. Topolewski began his professional career while in high school when he was selected, through an international competition, to perform as soloist and conductor with band, chorus, and orchestra on a summer tour of the major cities of Mexico. He has appeared as conductor, clinician, or soloist on the conference programs of the American Bandmasters Association (ABA), Midwest Band and Orchestra Convention, and the College Band Director's National Association (CBDNA) and National Band Director's Association (NBA) conventions. He has conducted numerous state, national, and international festivals and honor bands and orchestras including performances in Melbourne and Brisbane, Australia, Dresden, Potsdam, and Leipzig Germany. His principal instructor in conducting was Harry Begian with additional studies taken with Herbert Blomstedt.
Prior to his appointment to the faculty of The Crane School of Music, Dr. Topolewski served with distinction for three years (1970-1973) as clarinet soloist and enlisted conductor with the United States Army Band "Pershing's Own" in Washington, D.C. During his time in the Nation's Capital he performed as soloist and conductor at venues in and around the Washingon, D.C. area including The Pentagon, The United States Capitol Building, The Library of Congress, The White House, The Basilica of the National Shrine and The Kennedy Center for the Performing Arts. From 1975 to 1979, he was on the faculty of the University of Wisconsin-Platteville. During this time, he conducted the symphonic band and university orchestra and taught woodwinds. From 1979-1987, he served as Director of Bands at Coe College in Cedar Rapids, Iowa where he conducted the wind ensemble, chamber orchestra and taught conducting. He holds a B.S. degree in music education from Michigan State University, a M.M. in music education from the Catholic University of America and a D.M.A. as full scholarship recipient from the University of Illinois at Champaign-Urbana where he worked as conducting fellow with Harry Begian.
Dr. Topolewski is co-editor, with Frederick Fennell, of Ludwig Music's publication of Percy Grainger's "Lincolnshire Posy," and is editor of the Carl Fischer publication of Grainger's "Colonial Song" and Warner Brother's publication of Bernard Rogers' "Three Japanese Dances." His work in this capacity, including his seven volume work titled "Errata Studies for the Wind Band Conductor," has won critical acclaim from the nation's finest educators, conductors and composers.
Dr. Topolewski is a past president of the New York State Band Directors Association (NYSBDA) and has held active memberships in the American Bandmasters Association (ABA), CBDNA, Music Educator's National Conference (MENC), Phi Mu Alpha and Phi Kappa Phi. He has been recognized as the MENC "Outstanding Teacher in the Field of Music Education" at Crane, and has received the "Presidents Award for Excellence in Academic Service" and the "Presidents Award for Excellence in Research and Creative Endeavors" for his sabbatical research on multi-sensory score study for conductors. In 2002, Topolewski's recording of William Bolcom's "Concert Suite for Alto Saxophone," with soloist Timothy McAllister was nominated for a Grammy Award in three separate categories. Prior to retiring in 2006, Dr. Topolewski was promoted to the rank of SUNY Distinguished Teaching Professor by SUNY Chancellor John Ryan and the SUNY Board of Trustees. This rank of Distinguished Teaching Professor is awarded to professors who have demonstrated consistently superior mastery of teaching, outstanding service to students and commitment to their ongoing intellectual growth, scholarship and professional growth, and adherence to rigorous academic standards and requirements.