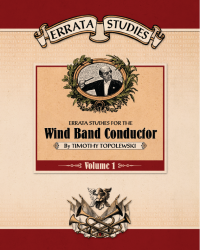 Chester Overture – Schuman
Four Scottish Dances – Arnold/Paynter
Incantation and Dance – J. Chance
Al Fresco – Karel Husa
Symphony No. 3 – V. Giannini
Sketches on a Tudor Psalm – Fisher Tull
Symphony in B Flat – Paul Hindemith
Elsa's Procession to the Cathedral – Wagner/Cailliet
Circus Polka – Igor Stravinsky
Errata studies for the wind band conductor
We have all encountered a common frustration in even our best attempts at preparing for a performance: mistakes. We find them in the melody, harmony, rhythm, articulation–virtually in every aspect of our performances. Some are human errors and are a natural part of the music-making experience, while others will be found in the printed music itself, usually discovered during the final rehearsal!
Through careful study of multiple editions of the pieces and consideration of the part in question to the work as a whole, Dr. Topolewski has developed the Errata Series to provide an objective list of errors and inconsistencies found in and between the score and parts.
Enigma Variations – Edward Elgar/Slocum
Kaddish – Francis McBath
"March" from Symphonic Metamorphosis – Paul Hindemith/Wilcox
Octet for Wind Instruments – Igor Stravinsky
Overture to Candide – Leonard Bernstein/Beeler
Sinfonietta – Ingolf Dahl
Suite Francaise – Darius Milhaud
Symphony for Band – Vincent Persichetti
Theme and Variations, Op. 43a – Arnold Schoenberg
Trittico – Vaclav Nelhybel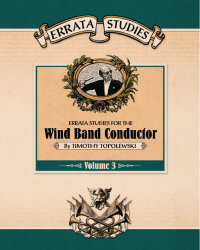 Serenade Op. 7 – Richard Strauss
Rondino – Beethoven
Petite Symphonie – Gounod
Serenade No. 1 – Persichetti
Histoire du Soldat – Igor Stravinsky
Octet – Beethoven
The Good Soldier Schweik Suite – Kurka
Hill Song No. 2 – Grainger
Serenade Op. 44 – Dvorák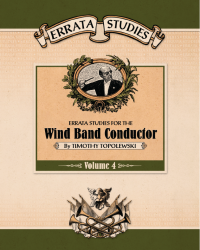 The Hounds of Spring Overture – Alfred Reed
Variations on a Korean Folk Song – John Barnes Chance
La Fiesta Mexicana – H. Owen Reed
Huntingtower Ballad – Ottorino Respighi
Psalm for Band Op. 53 – Vincent Persichetti
Esprit de Corps – Robert Jager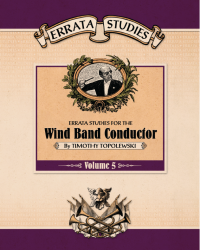 Chorale and Alleluia – Howard Hanson
Do Not Go Gentle Into That Good Night – Elliot Del Borgo
Symphonic Dance "Fiesta" –  Clifton Williams
Havendance – David Holsinger
Watchman, Tell us of the Night – Mark Camphouse
Symphony No. 5 "Finale" – Dmitri Shostakovich, Charles Righter (arr.)
Lincolnshire Posy – Percy Grainger, "Full Score Edition"
Eternal Father Strong to Save – Claude T. Smith
Canzona – Peter Mennin
Toccata for Band – Frank Erickson
Fantasia for Band – Vittorio Giannini
Kentucky 1800 – Clare Grundman
Emblems – Aaron Copland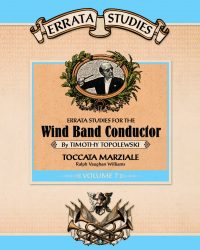 Toccata Marziale – Ralph Vaughan Williams

 This volume was done using the original edition published in 1924 by Hawkes and Son. It is 56 pages in length.